Welcome in the Ionian Islands. Discover this phantastic sailing area by sailing yacht or motor boat. We have been sailing in this area for 29 years, so we know many wonderful places between Corfu and Zakynthos and further on. We offer yacht rental and services in Gouvia-Marina on Corfu, repairs and maintenance. We are base of the German Trans-Ocean deep sea sailing association, the Austrian OESYC and the Austrian YCA on Corfu.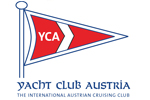 Our base is situated in Gouvia-Marina on Corfu. Here you will find best infrastructure for all your
needs and best travel-facilities to the rest of the world (at least in summer and in relation
to other greek islands)
We offer: Sailing yachts and Motorboat Rental, Brokerage, Yacht services, maintenance,
boat repairs of all sorts, rigging, raymarine, kvh, fischer-panda services, etc.
Our office and workshop is just out of the entrance to the marina, besides "Telesilla-Hotel",

With 33 years of experience in boating and yacht repairs we are the right address to keep your yacht in shape. We do not know everything about everything on a boat, but our skills in general are on a very high level. And, most important: We work together with our clients, not against them. We are abel to do nearly every job on your yacht ourselves, where special knowledge is needed we have longterm reliabel partners.
We offer:
Maintenance
Guardianage
Engine Works
Fiberglass
Rigging
Painting
Woodwork
Electrics and Electronics